Manage users overview
How it Works
The collaborators feature allows you to invite Individuals or Teams to help with a labeling project. If multiple users are collaborating on a labeling project, Labelbox distributes all of the data attached to a project to the collaborators with access. Collaborators will only get unique data, meaning there will not be multiple labelers labeling the same data unless Auto Consensus is turned on.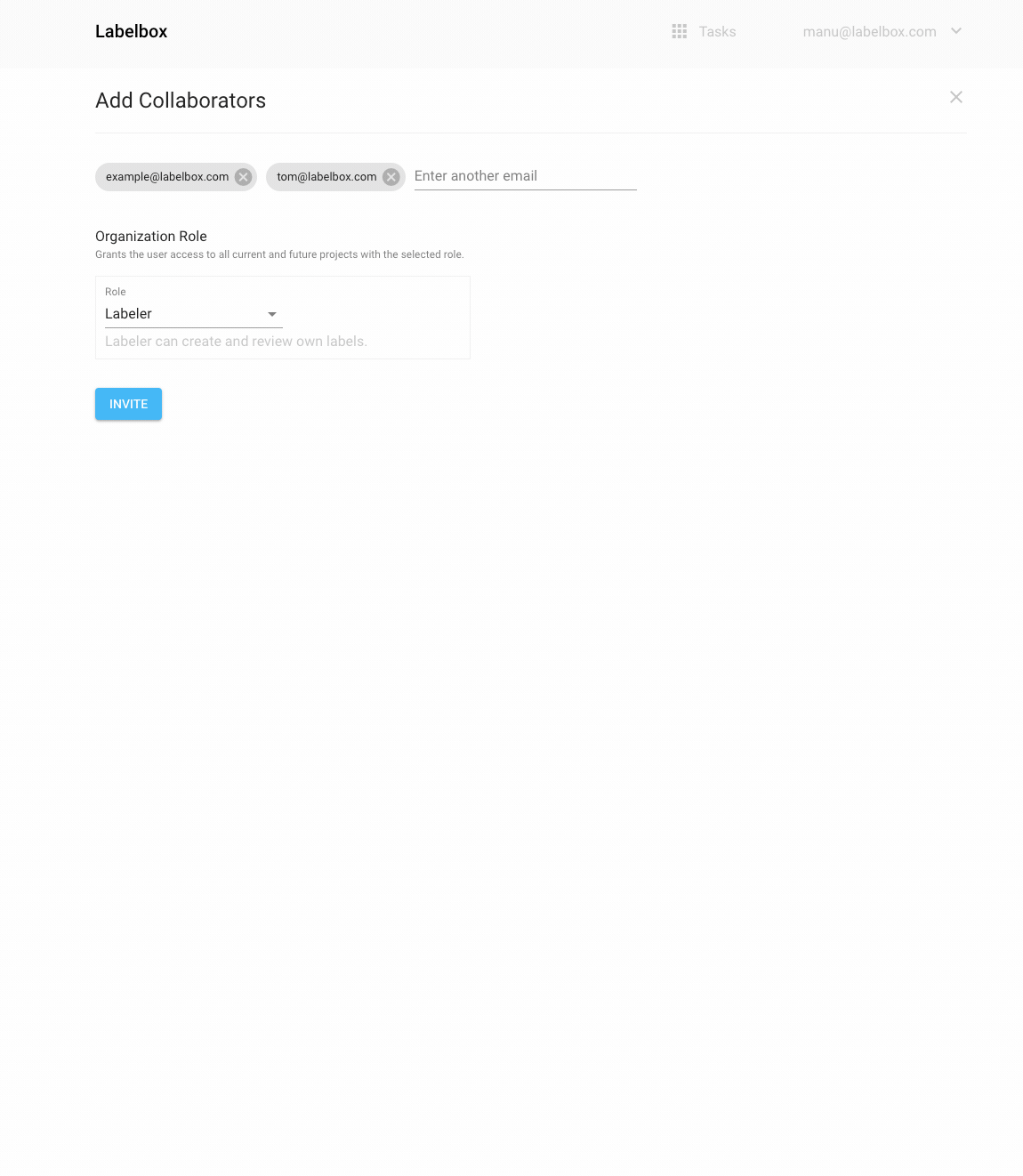 Benefits of Using Collaborators
Complete Your Projects Faster
Labelbox automatically divides the data attached to a project to all the labelers which can help complete a project in a fraction of the time compared to only having one labeler.
Manage performance
Track the total number of labels, time per label, and total time spent labeling for each collaborator. This will help you manage the efficiency, cost, and complexity of your labeling project.
Labeling Consensus
With Auto Consensus turned on, a portion of your dataset will be labeled by multiple labelers. Labelbox will then compare the agreement for each of these labels across the multiple labelers and calculates a consensus score. Auto Consensus works in real time so you can take immediate and corrective actions towards improving your training data and model performance.
Teams
Creating a Team allows you to manage a group of Individuals. You can add a Team to a Project instead of adding each collaborator individually. This is particularly helpful when there are a lot of collaborators to manage. Note that roles are still configured individually for maximum flexibility.
Roles
Organization-Wide Roles
Granting a user an Organization Wide Role gives the user access to all current and future projects with the role given. Consequently, their role cannot be changed at the project level. To manipulate roles for users on a project basis, use the Project Based Role instead.
Labeler
The Labeler role can label queued data and view their own work from the Activity Table. A labeler cannot view labeler performance or view/modify any aspect of the project configuration or data sources.
Reviewer
The Reviewer role extends the labeler role by being able to see and review all labeled data in the project.
Team Manager
A Team manager extends the Reviewer role by being able to add and remove collaborators inside of a project. The Team Manager can also view labeling performance for all team members.
Admin
The Admin role can add and edit projects, data and Labelers. By default, the user that signs up for an account has the role of Admin.
Project Based Roles
The complement to the Organization Wide Role, is the Project Based Role. When a user is given a project based role, they don't have access to projects by default. However the user is granted access to each project with a specific role and (in contrast to the Organization Wide Role) the role for each project can be changed. The benefit of this is that you can limit the access and the role of a user depending on the project at your discretion.
---
---