Data labeling services
Work hand-in-hand with the world's best labelers right inside your Labelbox project.
How to get a labeling workforce (outsource firm)
Get in touch with our team today.
You'll have your first outsourced labeling results in 2-3 days from now. The labeling will be done right inside your Labelbox project where you will have complete transparency into the process. With Labelbox, you can now work hand-in-hand with your outsourced labeling team and dedicated project managers to scale up without sacrificing quality or consistency.
Have your own outsourced labeling service?
Got a labeling service provider that you love? You can onboard them to the Labelbox platform at no cost, contact
outsourcing@labelbox.com
.
Instructions for Labelbox customers
Create a new Labelbox project or start in an existing project
Go to Settings > Members > Outsource
Enter an Outsource Firm Provider ID in the field and click Add
The project is now connected to your labeling workforce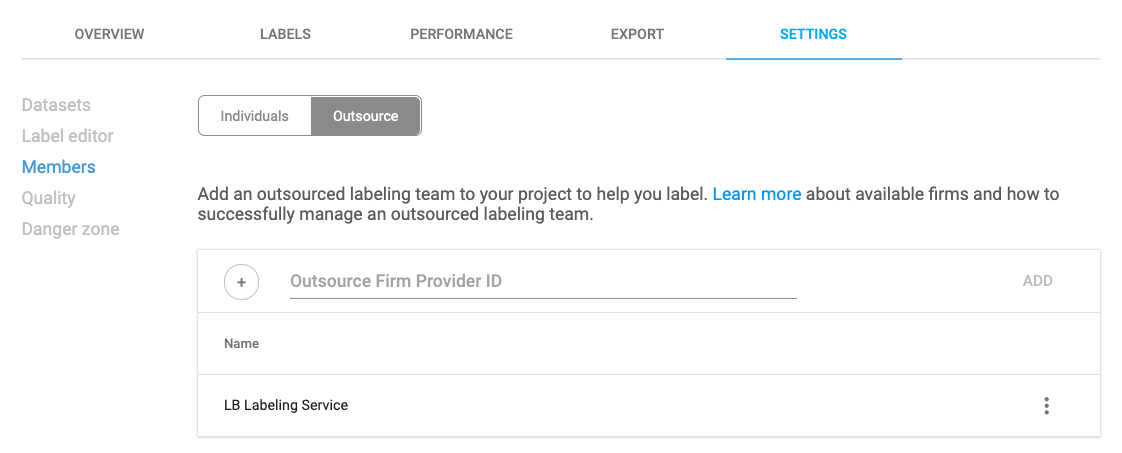 This will give access to the labeling team to add their labelers. The project will appear in their account as a shared project.
They will only have access to do the following:
Manage their own members in your shared project. Not your Members.
Label and review
Delete & re-enqueue labeled data
View project progress, basic metrics, and labeler performance
Instructions for managed workforce partners
Connecting a project
Share your Provider ID with the Labelbox customer and they will be able to connect their project to you. The connected project will appear in your Projects tab.
Adding members and assigning roles
Admins and Team Managers from your Labelbox team can add members to a project that has been shared with your organization. Adding members to a shared project can be done via the Members tab or inside the project under Settings > Members.
Admin
Admins have reduced access to projects shared with their organization. Notably, they cannot take destructive action against the project, they cannot export data, they cannot add or remove data, and they cannot adjust the quality settings of the project.
Team Manager
Team Managers are able to add and remove their organization's members to shared projects. However, the members of the client project will not be visible.
Labeler & Reviewer
Labelers and Reviewers of a shared project behave identically to the way they do in an internal project.
Become a Workforce Partner
Interested in offering your labeling services to Labelbox users?
Apply here
.
---
---